Dubai, India has prepared the lollypop of the mutual series for Pakistan. Indian cricket board signed the agreement of 6 mutual series during the eight years from 2015 to 2023 future tour program with Pakistan after getting the favor of 'big three' in 2014 but none of them became possible. They gave the hope of the mutual series many times in the past but they presented the reason that they did not get the approval from the government and they refused to play the series. Now it is informed that BCCI is preparing the lollypop of the series.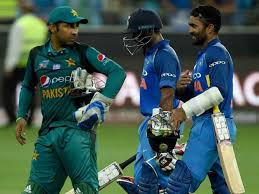 According to Indian media, the
cricket series between Pakistan v India
in UAE is being discussed in September next year. There is great tussle between the two countries but it is surprising that they are showing the positive signs. A senior official of BCCI told that the officials of both cricket boards had the meeting during the
matches of the Asia Cup
on the mutual series. After getting the green signals from the relevant officials, any announcement can be expected. The cricket series between India v Pakistan will be outside of the FTP and it will not be part of the ICC test championship.